Birthing in Alignment with
Your Innate Intelligence
Introducing New Book!
ELEVATING PREGNANCY
Affirmations and Wisdom for Pregnancy & Birth
"Bringing Wisdom & Confidence to Pregnancy & Birth"
Give the Perfect Gift to the Pregnant Woman in Your Life!
Purchase Now!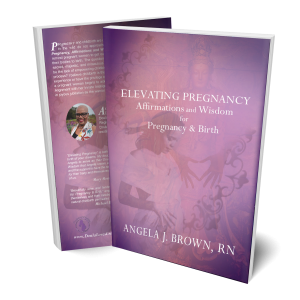 Hypnobabies Hypnosis for Childbirth
Are you ready to experience a calmer, more peaceful and shorter birth?
Hypnobabies is helping women THRIVE in childbirth, one birth at a time.
Read what one mama had to say about her Hypnobabies birth experience:
… She is also a hypnobabies instructor which was a HUGE plus for us as we had completed the hypnobabies courses. If it hadn't been for her completing those courses as an instructor and hypnodoula I don't know how my labor and birth would have ended up, I really used her for that! She was able to calm and relax me so that I felt absolutely no pain. You also have to know that I was extremely stubborn during the hypnobabies course.. for some reason I thought that I wasn't able to be hypnotised, that I didn't like the tracks, and that it was definitely NOT going to work on me. Angela and I find this humorous now, because not only did it work, but it worked well! During the birth she was able to get me so deep into hypnosis I was sleeping through contractions (aka birth waves)!! I was completely calm during each stage of labor, transition (known as the Transformation stage in Hypnobabies), and pushing… Feel free to read the rest of the review on Yelp.
Allow me to add a note of clarity here, it was my client's willingness to do the work. She practiced her Hypnobabies homeplay daily, even though she sometimes questioned it. I reminded her to stay steady with it and continue doing her inner work. Hypnobabies is about choosing to be hypnotized. It is self-hypnosis, and one must be open and willing to have the experience.
"Having a natural birth would have been impossible without you at my side. Your presence was essential. When I experienced doubt you knew the truth about me and my ability. In the face of the searing white, albeit brief, pain, your face was the face of God. You held my hand and didn't let go – you helped shephard my little girl into this world, and for that I am eternally grateful. You were like Harriet Tubman leading me to the promise land of motherhood. Thank you Angela, I love you."
~Kelli, Los Angeles, CA
Childbirth is truly a sacred and love-filled experience.
May you use your 9+ months of pregnancy consciously and wisely so that you bring yourself into alignment with this sacred and holy journey.
May you continue to rise above any fears that you may have about childbirth, invest in yourself and allow DoulaLove'sCreation to support you throughout your pregnancy and the birth of your baby.
We honor you and we respect your birth choices.
#iamwordthroughthisintentionwordiamword